IvDO - Regulation of In vitro diagnostics (IVDs) in Switzerland
21/07/2023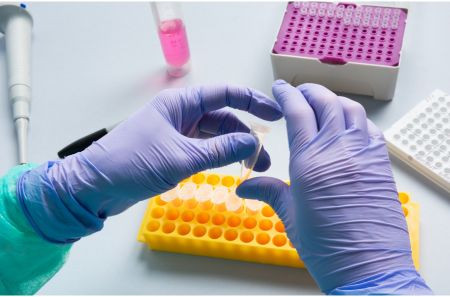 The
Mutual Recognition Agreement (MRA)
between the European Union (EU) and Switzerland played an important role in enabling cross-border trade in medical devices and
In vitro diagnostics (IVD) in Switzerland
. A new agreement became necessary with the introduction of the EU-Regulation 2017/746 (
IVDR
) as of May 2022. Unfortunately, there was no update of the mutual recognition agreement for conformity assessment.As an EU third country, Switzerland no longer has free access to the European market. Seamless mutual market access and joint market surveillance can no longer be ensured. EU manufacturers wishing to distribute In vitro diagnostics on the Switzerland market need an authorized representative and importer in Switzerland according to the requirements of the Swiss Medical Devices Ordinance (
MedDO; SR 812.213
).The
requirements of the MedDO
and the Ordinance on In Vitro Diagnostics (IvDO, SR 812.219) are applicable to medical devices that are marketed or put into service in Switzerland. This article provides further information on the regulation of In vitro diagnostics (IVD) in the Switzerland market.
IvDO applies since May 26, 2022
On May 4, 2022, the new IvDO as well as the amending decree of the Ordinance on Clinical Trials with Medical Devices (
ClinO-MD
) were approved by the Swiss Federal Council. These amendments represent the final step in the adaptation of Swiss medical device law and have the following objectives:
enhancing patient protection through stricter requirements for conformity assessment,
post-market surveillance and
alignment with the new regulations of the European Union.
The new legal requirements came into operation at the same time as the application of the IVDR in the EU. The Swiss regulation is largely based on the IVDR and serves to increase the safety of In vitro diagnostics (IVD) in Switzerland.Each manufacturer must have a quality management system in place, including responsibilities, risk management requirements, product development, performance studies, market surveillance, and defect management (CAPA). Manufacturers are also required to conduct continuous post-market surveillance (PMS) and documentation of product safety. In addition, they are required to describe the expected properties and performance of the In vitro diagnostics in Technical Documentation and also to demonstrate that the benefit-risk ratio is acceptable.As of May 26, 2022, clinical trials with In vitro diagnostics (IVD) are subject to the provisions of the ClinO-MD instead of the Ordinance on Clinical Trials (
ClinO
). These adaptations enable full regulation for human research with all medical devices, including IVDs, and tighten the requirements for safety and performance demonstrations for In vitro diagnostics (IVD) in line with European regulations.
EU: Current Status
Implementation of the IVDR
in the EU has been difficult due to the challenges of the Covid-19 pandemic, the limited capacity of Notified Bodies, and the complexity of the regulation. As of January 25, 2022, the EU passed Regulation (EU) 2022/112, which brought about changes to Regulation (EU) 2017/746. The purpose of this amendment was to incorporate transitional provisions for specific In vitro diagnostics (IVD) and to defer the implementation date for the conditions related to in-house devices. These transition periods are graded according to risk classes and last until the year 2027 at the most, in order to avoid a possible supply gap.
Transitional provisions: The situation in Switzerland
In Switzerland, these new EU transitional periods are also taken into account in the IvDO. The IvDO (In Vitro Diagnostic Ordinance) includes multiple measures designed to guarantee an uninterrupted and secure supply of In vitro diagnostics (IVDs) from the European Union to Switzerland. The following measures are planned:
Recognition of EU certificates of conformity.
Registration of economic operators (manufacturers, importers, and authorized representatives) with Swissmedic. Swissmedic assigns a unique registration number, the Swiss Single Registration Number - CHRN.
Notification of serious incidents and safety reports to Swissmedic. This notification is done by the designated Swiss Authorized Representative (CH-REP) for EU-based manufacturers of IVDs.
Introduce a Swiss authorised representative (CH-REP) for foreign manufacturers in order to maintain market surveillance by Swissmedic despite their exclusion from the network of EU authorities. Longer transition periods apply for the establishment of the Swiss Authorized Representative (CH-REP) (see figure: https://www.swiss-medtech.ch/en/news/overview-ivdo-dates-and-deadlines).
Facilitation of the labeling obligation: the IvDO makes it possible to use an alternative indication of the Swiss authorized representative (CH-REP) on an attached document (e.g. delivery note) for products handled by professionals. This facilitation does not apply to devices for self-testing that are placed on the market in accordance with the new regulations. The deadline for this labeling approval has been extended to March 31, 2025.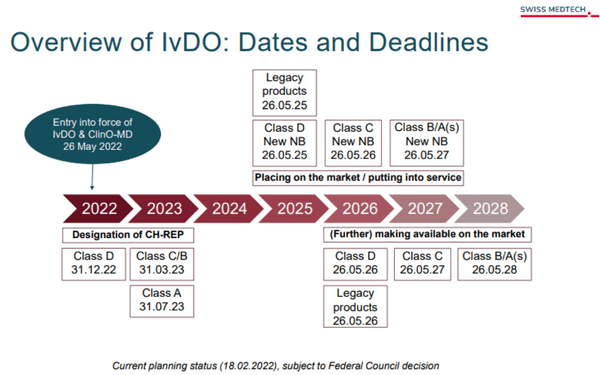 Source:
https://www.swiss-medtech.ch/en/news/overview-ivdo-dates-and-deadlines
It is important to keep the dates and deadlines in mind. The deadlines for designating a Swiss Authorized Representative (CH-REP) already expired in March for Class C and D products; July 2023 is the deadline for Class A products. Further detailed information can also be found on the Swissmedic.ch website in the fact sheet "FAQ - Notification of In vitro diagnostics (IVD)":
https://www.swissmedic.ch/swissmedic/de/home/medizinprodukte/marktzugang/meldung-ivd.html
Authorization/notification of IVDs in Switzerland according to IvDO
Manufacturers of In vitro diagnostics (IVD) located in Switzerland
must inform Swissmedic when they wish to distribute their products on the Swiss market for the first time.
I. Individual notification
of
IVDs of classes D, C, B, and A sterile
: For these products, Swissmedic provides two forms:
Form for notification of manufacturers according to Art. 90 para. 1 IvDO.
Form for certification data of In vitro diagnostics according to Art. 90 para. 1 IvDO (IVDR Annex IX-XI).
In addition, the following documents are required:
Certificate of conformity assessment procedures carried out (EC certificates)
Instructions for use
In the case of products for self-testing and near-patient tests (POCT), the layout of the outer packaging is also required.
II. Individual or group notification
of
Class A non-sterile IVDs
: For these products, the corresponding form must be submitted to Swissmedic:
Form for the manufacturer's notification according to Art. 90 para. 1 IvDO.
Importers and distributors based in Switzerland
must submit to Swissmedic:
Form Notification according to Art. 46 para.4 and Art. 47 para. 4 IvDO repackaged/ relabeled In vitro diagnostics (IVD).
Swiss Registration Number (CHRN)
: Do not forget to register all economic operators no later than three months after the first place on the Switzerland market. Forms and fact sheets can be downloaded from the
"Notification of IVDs"
website (swissmedic.ch).
In-house IVDs, i.e. In vitro diagnostics (IVD) manufactured in a healthcare facility and used exclusively there
according to Art. 9 IvDO, must be imformed to Swissmedic according to Art. 10 IvDO. This notification obligation applies to healthcare facilities in Switzerland prior to commissioning.Examples include:
Self-developed medical-analytical test procedures performed with own (not CE-marked) reagents.
Medical-analytical test procedures based on standard or published procedures and performed with own (not CE-marked) reagents.
Acquired but nonmedical use test procedures (e.g., "Research Use Only/RUO" procedures) that have been (further) developed by the healthcare facility for medical-analytical applications.
Self-manufactured IVD instruments.
Self-developed IVD software.
The form "Notification according to Art. 10 IvDO for products manufactured in healthcare facilities" must be submitted to Swissmedic.Suppose
manufacturers of IVDs based in the EU/EEA
meet the requirement that their product is IVDR-compliant (CE-marked) and a natural or legal person based in Switzerland has been registered as CH-Rep. In this case, they do not have to separately notify Swissmedic of their products for placing on the Swiss market. As of May 27, 2022, IVDs will no longer be newly approved for the Swiss market under the IVDD (98/79/EC). For IVDs already on the market (legacy devices), the following applies: They may no longer undergo any significant changes.
If you need assistance in preparing and submitting the required documents to Swissmedic or if you are looking for a Swiss Authorized Representative (CH-REP) to get your In vitro diagnostics (IVD) approved in Switzerland, we are at your service. Contact us - we look forward to getting to know you!
Please do not hesitate to contact us - we look forward to meeting you!